Still 28 Percent Rockstar
September 3rd, 2016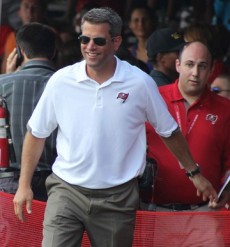 After three Jason Licht drafts and deep dives into free agency, and two head coaches, the Buccaneers' 53-man roster still has a big percentage of links to its former boss.
Fifteen current Bucs were secured by former rockstar GM Mark Dominik.
That's 28 percent of the team.
Joe's not sure what that all means. But it should tell the too-large crowd of Dominik bashers — that includes you, eye-RAH! — that Dominik wasn't the bumbling GM they think he was.
Heck, it would be 30 percent if Darrelle Revis wasn't cut.
It's too easy to forget that the Bucs started 10 rookies in 2010, and that was the first team since 1970 to start at least 10 rookies during a full season and post a winning record.
Joe believes GMs shouldn't be blamed for crappy coaching, or lauded too much for victories. Their job is to serve up talent to the head coach.
Dominik did plenty of that. And while he wasn't an elite general manager, he certainly was better than many around the league.