Saints Choke; Bucs Lead NFC South
September 11th, 2016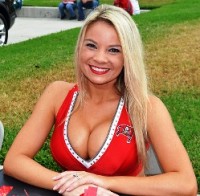 Pop the champagne!
The Saints flushed a 423-yard, four-touchdown passing day from Drew Brees and choked late to fall 35-34 to the Raiders today.
Combine that with the Bucs thrilling win against the Falcons and Carolina getting edged out by Denver on Thursday night, and guess who is in the lead in the NFC South?
Your Tampa Bay Buccaneers.
Joe would like to invite the entire Buccaneers cheerleading squad to JoeBucsFan.com headquarters for a celebratory hot tub.
Yeah, it's Week 1, but Joe is celebrating. Gotta enjoy every moment while it's here.