Listen To Joe
September 17th, 2016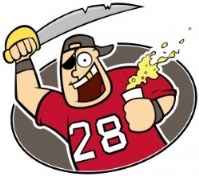 When there are Bucs topics to chatter about, the good people of ESPN Tallahassee want Joe, and Joe is only happy to oblige.
Yesterday, Joe joined "The Jeff Cameron Show," about the best show in a medium-sized market you will ever hear, with the best guy in the Panhandle, the aforementioned Jeff Cameron.
Naturally, Cameron and Joe broke down the Bucs and the thrilling win over the Dixie Chicks to start the season, and the massive obstacle that lays before the Bucs tomorrow in the desert.
Feel free to crack open a beer, watch some college football and enjoy a good listen.
Just remember folks, you can sleep in tomorrow. Kickoff isn't until 4:05 p.m.