Marpet: "We Really Didn't Show Up"
September 23rd, 2016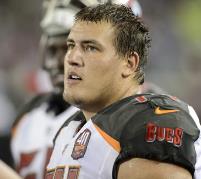 Who could forget Lovie Smith's astute assessment of the 2014 season, in which the Bucs were winless at home: "The crowd showed up; We didn't."
Bucs guard Ali Marpet had a similar take on Tampa Bay's effort in Arizona on Sunday.
"We didn't come and play. That's the problem. I mean, it's hard to win in the NFL, as our head coach says. And we really didn't show up. And you can't do that against a good team," Marpet said on the Buccaneers Radio Network.
Hey, Ali. The Bucs can't do that against a bad team, either! Sadly, right tackle Donovan Smith said on the broadcast that he agreed "100 percent" with Marpet.
And that brings Joe to Sunday's home-opener versus the Rams. In theory, all the Bucs have to do is "show up," since they are a more talented team than Los Angeles.