Kwon: I Was "Out Of Control," Needed Guidance
September 13th, 2016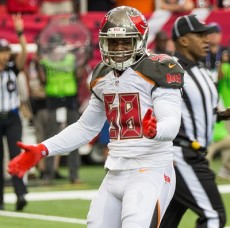 Powerful stuff shared by Kwon Alexander yesterday.
It casts an eye-opening shadow on Lovie Smith's coaching staff and illustrates the power of free agency.
On the Buccaneers Radio Network last night, Kwon was asked about the impact of linebacker Daryl Smith, the classy veteran with 172 starts under his belt before Sunday's game.
Kwon emphasized how much Daryl Smith has been helping him — "When I say a lot, he talked to me a lot," Kwon said. — and Kwon explained that Smith's coaching and shining example has completely transformed his game.
"Last year as a rookie, I used to always juice my speed, just to use it," Kwon said. "You know, and just go fast, but I used to always overrun stuff. You know, because I used to always just run fast and I used to be out of control most of the time. And he showed me how to be under control. I watched film on him, when he's just practicing. He just be under control. Square.

"So I just watch him now. And now I'm doing the same motions and everything else he's doing. And it's working out good. I appreciate everything Daryl done brought to the table."
Pretty eye-opening stuff from Kwon, considering he had Hardy Nickerson as a position coach and Lovie Smith as a head coach, and he had Lavonte David alongside him.
It seems the addition of Daryl Smith is the big difference-maker, delivering Kwon the maturity he needs to go from good to great.
Joe's not burying Lovie and friends here. Obviously, they did a good job with Kwon last year. But as coachable as Kwon has proven to be, and after hearing this, Joe thinks Kwon could have been better last year with more effective coaching.