Jason Licht Statement On ASJ
September 23rd, 2016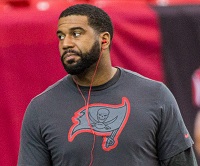 It's officially official.
The Bucs sent out an alert on their official app and published a statement from general manager Jason Licht on their website, per the release of Austin Seferian-Jenkins.
"We are very disappointed in today's news," Licht said. "After careful consideration, we felt this was the right decision at this time."
Yes, it is unfortunate. But ASJ got more than a few chances to grow up and fly right.
Mind you, ASJ's stunts are the ones made public. One can only guess what he has pulled that no one outside of One Buc Palace is aware of.
Remember, ASJ was thought by Licht to be a steal of a pick. But as Licht has said he learned from Bill Belicheat, don't let mistakes linger and fester. Learn from them and move on.