Jameis Says "The Calm" Returns
September 7th, 2016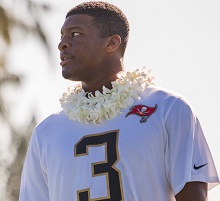 America's Quarterback, Jameis Winston, fielded all kinds of questions from media this afternoon at One Buc Palace.
Joe served up one about the greatest change coming to the playing field.
Of course, that's the return of Vincent Jackson, who was injured early in Week 15 last season and missed the final two games of 2015.
The Tampa Bay offense fell apart in many ways, just as it did when V-Jax missed time earlier in the season. Jackson played in just 8 games. It showed.
"It changes everything," Jameis said, "just because of another veteran on that football field. Vince helps everyone out who is out there on the field because he's been there and done that. He's been experienced in situations that I've never even seen. So him out there playing, there's more calm. He just does amazing things. Age can do that for you."
Joe really was intrigued by Jameis' use of the word "calm." So Joe asked veteran tight end Brandon Myers for his interpretation. Myers is in his third season playing alongside V-Jax.
"Vince does a lot of things for us that not everybody sees," Myers said. "In addition to the blocking, just having him out there. There's attention put on him and it opens up other thing. You might not see it, but he definitely affects the way the defense plays. That's really a calm to everybody else. You can feel it. It makes everybody else's job a little easier when you have two guys on the outside that are that dangerous. It changes the defense."
And this is why Joe named V-Jax as the No. 2 X-factor in the Bucs' season. The painful absence of V-Jax was so obvious last year, which is why Joe was clamoring for the Bucs to acquire more receiver depth this offseason.