"I'm A Lion, I'm A Tiger And I'm A Gorilla In One"
September 28th, 2016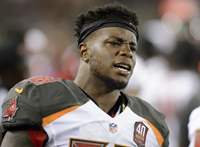 It wasn't your typical Mic'd Up segment on Buccaneers.com.
This week it was Kwon Alexander, so the segment was longer than most, since Kwon has more energy and is more interesting than most of his teammates.
It's all right here for your viewing and listening pleasure.
Of note, Kwon explaines that he's "a mixed breed" who is only found in the jungle. "I'm a lion, I'm a tiger, and I'm a gorilla in one."
Kwon implores his teammates to "be great," then he later demands they "be legendary.
You also get to see Gerald McCoy address his team pregame, and there's Robert Ayers on the sideline in street clothes acting as "naturally pissed off" as ever.