Here Come The Touches
September 19th, 2016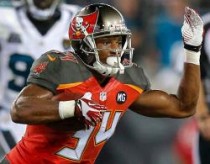 One good thing about Doug Martin's injured right hamstring is Bucs fans might finally get serious answers to big questions surrounding Charles Sims?
No. 1 on the list is, "Can Sims carry the load as a featured running back?"
It's a pure unknown. The 2014 third-round draft pick has never done it.
Joe would be stunned if Martin returns Sunday against the Rams, which would put the rock squarely in Sims' hands.
The Bucs would lean him to be a three-down back shouldering the primary load.
Against the Cardinals yesterday, Sims had a brutal day. He got in the way of America's Quarterback, Jameis Winston, which led to a costly fumble. He also dropped a pass. He ran for a paltry 24 yards on nine carries. His three catches totaled a whopping four yards.
Last week, Joe asked Dirk Koetter about getting more touches for Sims. The head coach repeatedly said that was a goal of his for 2016, but Koetter called it a "delicate" subject when Joe inquired.
Well, it's not delicate any longer. Sims might have at least a couple of games to be "The Man" behind a healthy offensive line.
Joe would like to see what Sims can do in that role.