Touches A "Delicate" Topic For Koetter
September 15th, 2016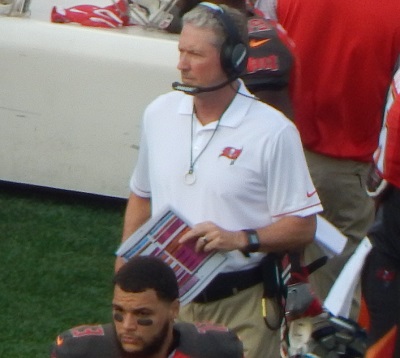 It was pretty easy to label the most electric Buccaneer on the field against the Falcons.
That dynamite catch-and-run by Charles Sims was an amazing play. Sims was 1-on-6 versus the Falcons' defense and he won. Touchdown!
Throughout the offseason, head coach/playcaller Dirk Koetter referenced getting more touches for Sims was a priority in 2016.
However, Sims had just four rushes Sunday, and he was thrown the ball three times (three receptions for 32 yards).
Today, Joe asked Koetter if Sims got the desired number of touches against the Falcons and if getting him the ball more remained a priority.
Koetter's answer could be summed up as follows: the Bucs are loaded with talent. But here's what he said in full.
"The whole touches thing, that's a very delicate balance all the time because [wide receivers] Mike [Evans] needs touches, Vincent [Jackson] needs touches, [running back] Doug [Martin] and Charles both need touches," Koetter said. "Kind of the odd men out in the touches game are [wide receiver] Adam [Humphries] and the tight ends; they get leftovers all the time.

"I did say the other day at halftime, it was just obvious, to me at least, that Mike didn't get enough opportunities. The way we look at it is we game plan to attack a defense. Now the running backs are the easiest to get touches because you can turn around and hand it to them. Chuck gets his touches in different ways. It depends on how much we're running the football, how much they're letting us run the football, how productive we're being in the run game. But we'll take points over touches all the time and it worked out good that way. The lack of touches thing, you know when that usually shows up? Is when you lose. When you win, nobody says too much about touches."
When was the last time a Bucs offense had so much firepower that touches became a real concern? Exciting times for Bucs fans and America's Quarterback.