"He Looks Even Better"
September 3rd, 2016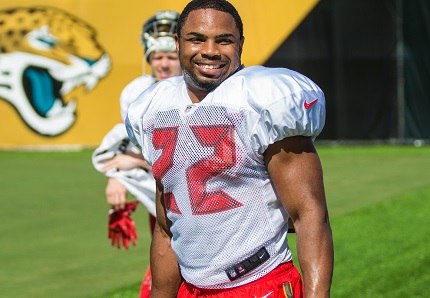 After Doug Martin emerged with a healthy and strong training camp and just nine preseason carries for 31 yards, a former teammate of his was talking big.
That man is Bucs legend Ronde Barber, who was alongside Martin bursting onto the NFL scene in 2012.
Ronde spoke on CBS Sports radio this week about how Martin has changed and, apparently, permanently transformed.
Oh, Ronde raved about how the 2015 Martin "had a burst and an energy in his step that I haven't seen since my last year."
Brother Tiki Barber interrupted and chuckled that it was a contract year for Martin, but Ronde said it goes beyond that.
"You know what, to be honest with you, Doug got right last year. A lot of it was injuries, but a lot of it was commitment," Ronde said. "Last year, he came into camp, his body changed. He looked different physically. This guy, you know he put the work in and it showed on the field. This year, you look at him, he looks even better. And he didn't get a lot of reps in the preseason, but in practice, his quickness and his short-space suddenness is there."
Great news there from a highly-trained eye. Joe did not see a better version of Martin through training camp. Joe would even have said Martin might have been tiny bet less intense and physically imposing than he was last year. But regardless, he looks great.
For those thinking Tiki Barber was knocking Martin, he wasn't. Remember, it was Tiki Barber who talked to Martin about how much he admires his "enormous ass."