Bucs Walking Into A Hornet's Nest
September 14th, 2016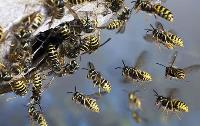 Joe has a hunch if the Bucs really are going to be players for a playoff run this year, we will find out rather quickly late Sunday afternoon.
The Bucs will be play in the Cardinals' bird cage against a very PO'ed team.
Many picked Arizona as a Super Bowl contender. They got punked in their own cage Sunday night by a guy making his first NFL start, Jimmy Garoppolo, the pride of Eastern Illinois University. In primetime on national TV, no less.
We all know what happens to the playoff odds of a team that loses its first two games of a season. So Joe expects the Cardinals to come out fighting for their lives.
How p!ssed are the Cardinals? General manager Steve Keim blasted the team this week. How often do you see a general manager unload on his team publicly after the first game?
Oh yeah, guess who is one of Keim's closest friends in the NFL? That would be AC/DC-loving Bucs general Jason Licht. You think Keim wants to lose a critical game to one of his protegés? No way.
(Trivia: When Licht was working for Jimmy Johnson and the Dolphins, he had to play the part of "The Turk," the guy in training camp who tells players about to be cut that the head coach wants to speak with them and to bring their playbook. It was Licht who told Keim, then a reserve offensive lineman with the Dolphins, that his NFL playing days were done.)
Even the Bucs know what a steep hill Sunday's game represents for them. Gerald McCoy explained to "The Blitz" co-hosts Bruce Murray and Brady Quinn yesterday, heard exclusively on SiriusXM NFL Radio.
"I like competing against people I am a fan of," GMC said. "I am a fan of Bruce Arians. I'm not going to lie. You always love to compete against certain people. And Bruce Arians, as a coach, and the success he has had, it's going to be fun to compete against his teams.

"[Arizona is a] very, very, very dominant team. Don't be fooled by what happened Sunday. They are still dominant. You think they are going to lose on opening day and let another team come into their house and do it to them again? Nah. So we have a huge, huge, huge test ahead of ourselves."
That's the way Joe sees it. This is a test. A huge test. If the Bucs hang with or even beat the Cardinals, then Joe thinks we'll be looking at a fairly good Bucs team this year.
If the Bucs do win, the Joe believe Sunday's game could very well be a factor in determining a wild card in four months.