JoeBucsFan.com Predicts A 6-10 Season
September 10th, 2015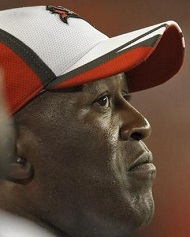 Can the Buccaneers be bad and still be on the right track?
Yes. And Joe predicts the Bucs will be in that state in 17 weeks.
Joe projects a garbage 6-10 finish for Tampa Bay in 2015.
"Real recognize real," as Jameis Winston likes to say. And there's no way to spin 6-10 as anything other than a crap season.
But in the world of the Bucs, 6-10 is leaps and bounds ahead of the 2-14 record of last year. A six-win finish even would invoke hopeful smiles across the Bay area come January. And 6-10 likely would mean real successes from an offense that's been the NFL's worst over the past two seasons.
Assuming Lovie Smith knows what he's doing, the Buccaneers' hand-picked veteran defense should at least be an average unit capable of single-handedly winning a game or two this season. Lovie truly has no excuse to miss that mark. None!
On special teams, the Bucs are going with a rookie kicker (Kyle Brindza), a punter (Jacob Schum) with no regular-season experience, and an undrafted rookie returner (Adam Humphries) sits atop the depth chart at that position. They'll be highlighted in a special teams that was bad during the preseason and shaky last year. Did the Bucs improve on special teams this offseason? Joe can't answer that, "Yes," at this point.
On offense, America's Quarterback, Jameis, has talented weapons around him. Joe has no concerns about Jameis other than his health. Jameis will play like a talented rookie, up and down, but he should be able to put the team on his back a couple of times, despite the weak and thin offensive line in front of him.
That offensive line ultimately will slow the growth of the Bucs this season. Joe would be very surprised if any O-line starter is considered in January as a top-15 player at his position.
As always, Joe sincerely hopes this prediction is dead wrong.
Like all Bucs fans, Joe is aching for a good football team. But 6-10 is a reasonable expectation for this bunch of Bucs. It's really not too much to ask for the team to, say, methodically march to a 5-10 record and head to Carolina for the finale and win on a high note.
If Lovie Smith can't pull off 6-10 and drag the Bucs out of the NFC South cellar, then his coaching ability will deserve serious scrutiny — and the inevitable outrage that would infest the streets of Tampa.