ASJ Likes His Extra Coaches
September 17th, 2016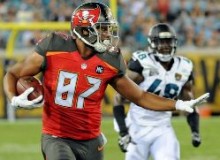 After catching his first touchdown pass during a Buccaneers victory on Sunday, tight end Austin Seferian-Jenkins was feeling filled with gratitude.
And it wasn't just for his playcaller and quarterback.
Speaking on the Buccaneers Radio Network this week, ASJ talked about his evolution as a tight end and how he is striving to become a complete player because it's so critical at his position. Veteran teammates are helping him stay patient and keep the right mentality.
"Brandon Myers is a great example of what it means to be a complete tight end," ASJ said of his 31-year-old teammate with 193 career catches.

"He can run all the routes we need. He can block and he can pass protect, and he's patient. Sometimes as a young guy you get impatient, but he always reminds me, definitely myself, that it's a work in progress and things just don't happen overnight. The run game, footwork, hat placement. You can be preached and taught and taught all you want. But it's got to take time and work and mistakes and failures to become a good player.

"And I think that's something that him and Luke Stocker do a great job of really saying that in the [meeting] room, almost being like a second and third coach. If there's something [tight ends] Coach Embree doesn't see, they'll bring it to our attention. They'll help the guys like myself, Cameron Brate, Dan Vitale, Alan Cross. So having that veteran experience in the room is extremely valuable."
Joe can't emphasize enough how level-handed and mature ASJ sounded during his one hour on the Buccaneers Radio Network.
That's very encouraging, but his maturity must be proven on the field over the course of a 16-game season.