Impact Failures For Roberto Aguayo
September 25th, 2016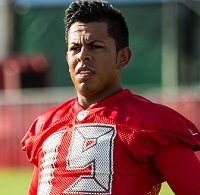 Before today, rookie kicker Roberto Aguayo's misses were inconsequential sports radio fodder.
Now they're a clear and present danger.
Aguayo's early missed extra point today, and a wide 41-yard field goal, severely impacted today's game against the Rams. It changed Dirk Koetter's offensive strategy. It took pressure of the Rams offense. It sent Bucs fans into spewing all kinds of venom at general manager Jason Licht on social media.
What's scary is these weren't pressure kicks — and neither was the one he missed with the game out of reach in Arizona last Sunday.
Of course, preseason screwups by Aguayo drew national attention.
Whatever is going on with Aguayo, it's a serious problem now that it has cost the Bucs clearly.
Joe's got fingers crossed and bourbon ready.