"We're Not Little Kids"
August 23rd, 2016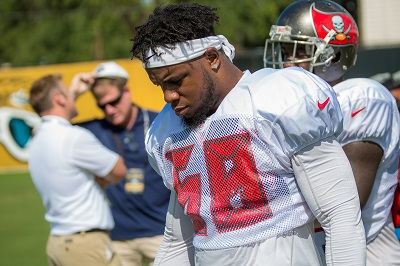 Kwon Alexander had a senseless personal foul in the first quarter against Jacksonville on Saturday that flashed many fans back to the Lovie Smith administration.
Joe finally got a chance to talk to Kwon about that today.
On the play, Blake Bortles was flushed from the pocket and ran toward the left sideline. He was not attempting a throw and was at the sideline when Kwon hammered him.
"I just got to be way more smarter," Kwon said. "On my penalty, I didn't think [Bortles] was out of bounds.

"It was close. If he fakes going out and keeps going I'm in trouble. So I still hit him, but it's on me. I own it."
Joe pressed Kwon a bit for the reaction of defensive coordinator Mike Smith, renowned for his penalty-free teams in Atlanta.
Kwon said there was no punishment from Smith or any standout address.
"He just tells us," Kwon said of Smith's reaction to the personal foul.  "We're both grown men. He ain't got to punish us like that or anything. We're not little kids. He just tells what to do and we do it, and that's how it's going to be."
The Bucs as a team had three penalties of the senseless variety in the first seven minutes against the Jags. Hopefully, that nonsense stops now.