Vincent Jackson Is Banged Up
August 9th, 2016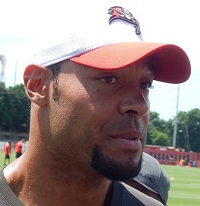 Cue the large crowd of Bucs fans that fears the team's shaky depth at wide receiver.
Vincent Jackson got the day off today and walked around the One Buc Palace practice field in sweats and sneakers, but it wasn't one of those "veterans days off" gifted to old men by NFL standards.
Dirk Koetter confirmed that V-Jax is banged up (nothing specific given) and he might not play in Thursday night's preseason opener unless he's just right.
That's nothing to worry about, per se, unless you start thinking of how damn important V-Jax is to the roster and what happened last year when he missed eight games. The offense struggled significantly, and there's hardly a star-studded cast behind him.
The Bucs kick off the regular season in 33 days. It's too early to panic. Maybe.