Training Camp Winner: Mike Evans
August 25th, 2016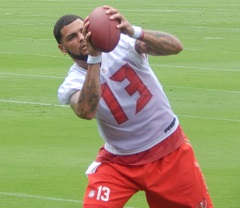 It's been one hell of an August for Mike Evans, who turned 23 this week.
If you told Joe in June that Evans would emerge through training camp and into tomorrow night's third preseason game 100 percent healthy, and without arguing a call, and without dropping a troubling amount of footballs, Joe would have considered that pure fantasy.
But Evans has done just that, in addition to making some standout plays.
Remember what Evans told Joe in Philly, explaining with a twinkle in his eye that he was "too old" to complain to officials and get distracted, even after he was mugged by an Eagles cornerback?
Joe considers Evans to be, perhaps, the Bucs' biggest winner of the summer. He appears to be a new man, a mature wide receiver who always had gobs of talent.
Yesterday, Joe talked to Evans, who was feeling a bit nostalgic. Josh McCown, now infecting the Browns, was an opponent at One Buc Palace, and Evans was recalling the one big lesson McCown taught him that still sticks with him.
"Josh really drove me to play fast," Evans said. "He'd even tell me to play faster when I was playing fast. That still has an impact on me. I still hear him saying that. He's just the greatest guy."
Evans added that he expects to wipe out the mistakes that plagued him last year and have everything come together in the second year of the offense — and a second year with America's Quarterback, Jameis Winston: "I'm not going to be perfect. But I've put in the work on all aspects of my game and myself. I'm confident that's going to show up."