"I'm Too Old For That"
August 12th, 2016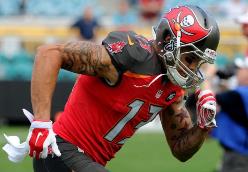 One of the greatest happenings in last night's Bucs-Eagles game won't show up in a box score.
But it was real, and Joe shared a private locker room moment with Mike Evans to talk about it.
There was as deep ball thrown last night in Philly. It was aired out on the right side to Evans. The pass was incomplete, but it appeared clear that the cornerback in coverage pulled Evans' arm and interfered on the play. The massive replay boards in Lincoln Financial Field told the same story.
Joe's eyes were glued to Evans.
Would he motion for a flag to be thrown? Would his face sour? Would go chat with a referee?
Evans did not of that — all things he would have done in 2014 and 2015. The nonsense that always seemed to throw him off his game was gone.
Joe was proud of Evans' self control and told him so.

"I felt him grab me, but I'm not going to do that no more. I'm too old for that," Evans said with a grin.

Joe asked if fans saw the new Evans last night on that play. The still 22-year-old receiver said yes, but his self-control is a work in progress.

"I'm going to try. You know, I'm competitive, and I get gotta give my all and my soul to this game. But I'm trying," Evans said.
If the Bucs get a more mature Evans in his third season, then they might very well have a Pro Bowl wideout.