Seven Things To Watch In Tonight's Game
August 20th, 2016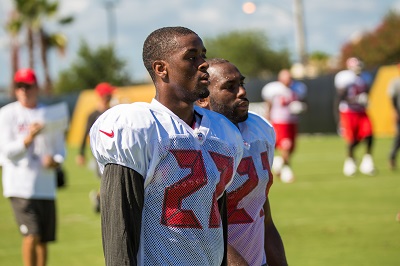 Take notes.
1) The Bucs ran the ball against the Eagles last week 21 times for 31 yards. That's hot garbage. Joe asked Dirk Koetter about those struggles and he responded saying it was of no concern because he believes running backs need plenty of touches to get a rhythm. That doesn't happen in preseason, Koetter said, and he knows the Bucs know how to run it. Joe didn't swallow that whole. Today's a new day. So let's see the Bucs average three yards a carry instead of 1.5 yards. Demar Dotson recently said the Bucs' offensive line hasn't had good practices back-to-back in training camp. Why?
2) Veteran strongside linebacker Daryl Smith won't play tonight, from what Joe has learned. So who is starting at the strong side? Is it Jeremiah George, rookie Luke Rhodes, or Adarius Glanton, who is well respected?
3) Keep any eye on rookie fourth-round pick Ryan Smith, a safety/cornerback. Joe seemed to be the only one reporting on his 1-hand interception against the Jaguars in practice Thursday. You can see Smith's talent, but better play in preseason from him might affect the Bucs' roster decisions when it comes to their overall numbers at safety and corner. Joe is confident Smith will make the roster. He's also expected to get a shot at kick returner tonight.
4) Can Donteea Dye return kicks well again? If so, Kenny Bell takes another step toward being released. Bell wasn't on first-team coverage teams in Philly or in practice this week, and you have to play special teams to be a No. 5 or No. 6 receiver in the NFL, especially with Louis Murphy healing in the background. Of course, waiting on Bell's first-ever preseason catch — in his fourth preseason game — makes this one worth watching until the final snap.
5) So far Jude Adjei-Barimah has outplayed Vernon Hargreaves at cornerback. If Jude can standout tonight, it's going to be very hard to keep him off the field. Doing so in that scenario would cost Koetter credibility in the locker room.
6) Can Mike Glennon shine for a change? Glennon was bad last preseason, bad last week, and he's had some really rough practices. That includes this week in Jacksonville. If Glennon's going to be with the Bucs as a backup, that's fine. But Joe would like to see him play some good football.
7) The Jags have a potent offense. The Bucs harassed and intercepted Blake Bortles in practice, but he also carved them up. Joe wants to see this defense look solid against a fine-tuned offense like the Jags'.