Monday Practice Notes & Observations
August 15th, 2016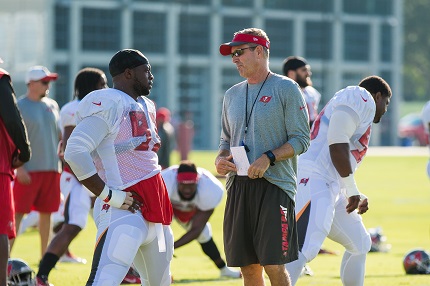 Training camp wore on early this morning at One Buc Palace.
Joe's got highlights.
*Floppy hat patrol again for J.R. Sweezy and Vernon Hargreaves.
*Kevin Pamphile moves to left tackle today with Donovan Smith still out with the flu bug.
*Defense came to practice today. In red zone drills, Doug Martin up the middle stuffed for no gain. Earlier, Robert Ayers, at left defensive end, raced through blocks and would have buried America's Quarterback, Pro Bowler Jameis Winston, had he not been wearing an orange don't-touch-me jersey.
*Pitch out to Charles Sims to the left side sniffed out right away by Bucs defense. May have lost a yard or two.
*Jameis drops back .. looks… looks … rolls right and hits the Great White Hype, Danny Vitale in traffic in corner of end zone.
*Beastie Boys singing about the right to party must be a cruel tease to the Bucs as they work and sweat in the humid morning air.
*Jameis nails Sims right in hands on wheel route. Inaccurate? Ha!
*Well, this is different: A little spread! Jameis holds ball in Martin's gut, runs with him in stride for a yard or two, pulls the ball out, steps back and hits Sims.
*Jameis hooks up with Mike Evans over the middle for about a 15-yard gain. This needs to become a staple.
*ASJ on a look-in route waits for pass instead of attacking the ball. Allowed the immortal Adarius Glanton time to recover and break up the pass.
*Jameis is locked in this morning. Precision passing.
*Sims hauls in deep pass along right sideline. Jameis drops it right in his bread basket in stride.
*ASJ makes a sweet one-handed catch deep along right sideline.
*Martin catches pass from Jameis and falls near left sideline as Kwon Alexander topples on top of him. Martin is slow to get up and Kwon had to help him to his feet. Martin seemed to shake it off.
*Bucs going through a topless period of practice.
*For whatever reason this is a very lackadaisical practice halfway through. After practice, Dirk Koetter called it "sluggish." Most practices this training camp have been very crisp, up-tempo. Players seem to be dragging, almost as if they had too much fun on their day off. Joe's been there before. Koetter says team is getting sick of each other and practicing against Jacksonville on Wednesday and Thursday will help.
*Kool and the Gang!
*Peyton Barber squirts through defense for a big run. Right now Joe would guess he's a possible No. 4 running back, maybe No. 3 depending on how the team views Mike James.
*While sparse crowd is quiet and bored watching special teams drills, one voice pierces muggy morning hollering encouragement to Russell Shepard, as the likely No. 4 receiver watches from the sideline.