Kevin Pamphile Among Key Bucs Sitting
August 26th, 2016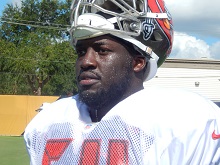 UPDATE: 7:49 p.m. America's Quarterback, Jameis Winston, better watch his back tonight.
Bucs sitting out tonight's game against the Browns include guards Ali Marpet (ankle) and Kevin Pamphile, linebackers Daryl Smith and Devante Bond, plus Luke Stocker, Evan Spencer and Clinton McDonald.
Marpet and Pamphile are pegged as this season's starting guards, as $9 million man J.R. Sweezy has yet to practice since arriving in March.
Joe assumes Evan Smith will play right guard tonight, and who knows what the Bucs will do at left guard. The Pamphile absence is a mystery. Joe talked to Pamphile after practice on Wednesday and he was happy and bubbly.
UPDATE: 7:44 p.m.: Per Greg Auman of the Tampa Bay Times, Pamphile has an excused absence and it is not injury-related.