Jameis: "He's The Best Player On Our Team"
August 8th, 2016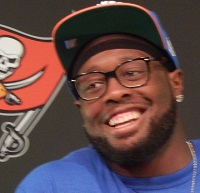 America's Quarterback, Jameis Winston, likes to say he lives by the motto "real recognize real."
Jameis reiterated that on BSPN's popular First Take last week. As a "real-talk" talker, it was interesting to note he called Gerald McCoy "the best player on our team."
Pretty telling stuff there. It came in the context of Jameis explaining that he works to have "genuine" conversations to build real relationships with all Buccaneers, specifically mentioning McCoy at the top of the food chain, and punter Jacob Schum represented the opposite extreme.
Joe finds it noteworthy because Jameis could have referenced Doug Martin, who was the Bucs' true superstar last year, the first for Jameis in Bucs colors. He also had Lavonte David available to choose, but he chose McCoy.
The McCoy haters must be loading up on Tums after hearing that.