Happy Birthday To Joe
August 7th, 2016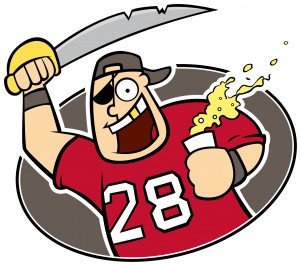 Eight years ago today Joe fired up this website and never turned back — eight full years obsessing 24/7 about all things Bucs on these pages.
It all started with a laptop and a dream.
About two years before JoeBucsFan.com was born, Joe hatched a plan to cover the Buccaneers in a way that would entertain and interest Joe, something edgy, fresh and unlike the stale traditional media. A defunct site called JoeNetsFan.com was the inspiration for the name and the spirit, but Joe decided to bring a different angle, the whole third-person "Joe" thing.
Joe pounded away for months on these pages writing passionately for almost nobody. Traffic grew slowly while Joe endured endless personal attacks, the result of rattling the cages of Bucs fans, the Bucs franchise, and Joe's media brethren.
But Joe pressed on, confident fans were buying into Joe's unique brand of journalism that continues to be like no other.
Thankfully, Bucs fans kept coming. Yesterday, JoeBucsFan.com enjoyed a rather typical day, about 20,000 actual visits to the website. Joe's traffic grows annually, and it's reached the point where Joe now is the only destination for legions of Bucs fans.
The ride has been wild (Joe could write a book about the bizarre sh*t he's experienced), and Joe appreciates all his readers. While Joe has wacky daily commenters, the typical reader around here only comes once or twice a week or so, and Joe is thankful to all of you.
In the birthday spirit, Joe is accepting gifts — donations to help fund Joe's obsession with the Bucs, as well as unattainable women and beer. Joe would love to travel to cover more Bucs games this year. And yes, there are plenty of bills to pay around a small business like JoeBucsFan.com. Happily, that includes the paycheck of The Custodian of Canton, eye-RAH! Kaufman, who now makes his home at JoeBucsFan.com world headquarters.
Thanks in advance for those who choose to give Joe a birthday gift. Your cash will help drive Joe to new heights, or new lows, depending on your perspective.