Ex-QB Compares Glennon To Peyton Manning
August 13th, 2016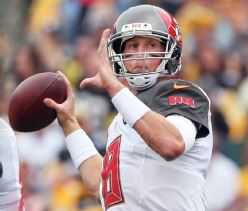 Joe nearly drove off the road moments ago.
A noted and respected 12-year former NFL quarterback watched Mike Glennon practice today and then compared him to Peyton Manning.
Joe's talking about Jim Miller, co-host of Movin' The Chains on SiriusXM NFL Radio. He was at One Buc Palace as part of an extensive broadcast feature of all things Bucs.
Miller raved about Glennon's work in practice and kicked the praise up a notch.
"For Mike Glennon, I have been saying all offseason, I would be on the phone every day to try and pry this player away," Miller said, referencing teams in need of a starting QB.

"They probably won't give him up because I do believe they're in a position where they feel that this [Bucs roster] can push forward this year. But this is a strong backup; this guy could start for a lot of teams in the NFL this year.

"I mean it is coming out of his hand with some serious revolutions, and he can put some heat on the football. For as big as he is, he moves really well. He reminds me somewhat on his drops of Peyton Manning.

"He can move enough."
What a great day for the Mike Glennon Mob.
Joe sure hopes the Bucs either trade Glennon this summer for a third-round draft pick, or find a way to lock him down to a long-term contract as the backup to America's Quarterback, Jameis Winston.
Joe also has no problem saying Miller is way off the mark and likely didn't watch Glennon in Thursday's preseason game, or during the 2015 preseason.
Glennon is a quality backup, nothing more. No shame in that.