Eagles 17, Buccaneers 9
August 11th, 2016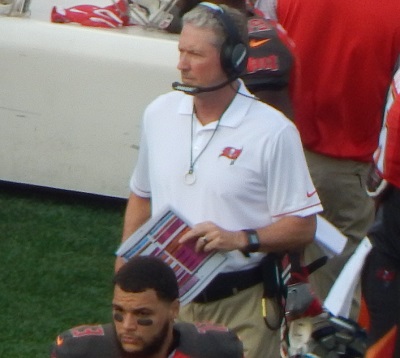 The new era of Buccaneers football began tonight with head coach Dirk Koetter at the helm. And man, it was dreadful out of the gate, but with plenty of silver linings.
First, let's start with the franchise, America's Quarterback, Jameis Winston. Jameis was 7-for-9 for 97 yards and a touchdown without a pick. That's solid football for a quarter of work. No complaints there. The sack/fumble wasn't on him. He got blindsided in the pocket.
But Kenny Bell fumbled the opening kickoff, and the Eagles ran it down the Bucs' throat for a touchdown.
The Bucs countered with some sloppy offense and penalties, plus a senseless special teams personal foul on Jude Adjei-Barimah. Then Jameis gave up the sack/fumble with left guard Kevin Pamphile getting beaten badly. Mighty Eagles QB Chase Daniels engineered a very short touchdown drive and the Bucs trailed 14-0 in a hurry.
But the Bucs recovered and settled down, minus the extra point miss by Roberto Aguayo after a seven-play, 79-yard Bucs drive featuring big plays from Mike James and Russell Shepard.  The pass rush was beastly all first half. Robert Ayers was dominant. Don't believe it? Go watch the damn film!
The Eagles has less than 200 yards of total offense.
Joe loved seeing Vincent Jackson on the field and hauling in a 17-yard pass from Jameis after he was "banged up" and questionable to play in the game. Just put that guy in bubble wrap until opening day!.
Yeah, it was sloppy with too many penalties — of all varieties — from the first team. But there was enough really good stuff to keep Joe from the liquor cabinet.
Stick with Joe all night for plenty out of the Bucs' locker room and much more.