Day 6 Training Camp Notes & Observations
August 3rd, 2016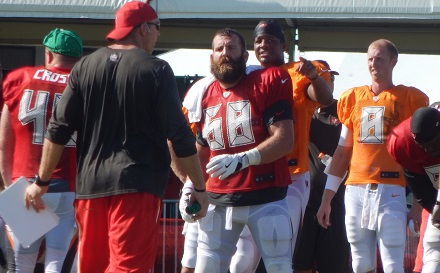 Updated: 10:35 a.m. Joe's pounding the turf at One Buc Palace to bring you all kinds of notes and nuggets from today's Day 6 training camp practice. Dive in. The meat is fresh.
Rough day for America's Quarterback, Jameis Winston.
*Run-only period in full pads without receivers, who are working on a side field with quarterbacks. Demar Dotson is exploding off the line. Wow! Can anyone say "contract year?" Joe's not being a jerk, even Dotson has been saying that.
*Luke Stocker flattens Daryl Smith.
*Robert Ayers, who Joe is watching a lot today, really seems to play every practice snap like it's the opening play of the Super Bowl. He and Donovan Smith exchange heated fun for a second after a play.
*Nice block by rookie tight end/fullback Dan Vitale to spring Mike James.
*DROP! On that side field referenced above, Donteea Dye has butter hands catching from No. 3 QB Ryan Griffin.
*Bubble wide receiver Bernard Reedy is way out of sync with America's Quarterback, Jameis Winston.
*DROP! Right in the hands of surging wide receiver Jonathan Krause with Brent Grimes covering.
*11-on-11 action:  lots of running today. Doug Martin up the gut and to the right. Charles Sims runs wide left next and is met quickly by Kwon Alexander.
*Jameis rolls left, nobody open. He turns right and throws across the field — but only a couple of yards down field — to Austin Seferian-Jenkins. DROP!
*Nice diving catch by Dye in second-team duty. Johnthan Banks covering.
*In 7-on-7, nice grab Sims, about 7 yards on the right side. Lavonte David a half step behind the play. Sims has special hands. … Lot of checkdown work in this 7-on-7.
*Rookie linebacker Devante Bond looks slow trying to cover Sims out of the backfield. Real slow on this play.
*Camp meat alert! Undrafted rookie running back Russell Hansbrough gets a rare shot to catch a pass from Jameis. He hauls it in but falls down. Stay up. son!
*11-on-11 is back: Kwon closes very fast on dumpoff pass to Doug Martin
*INTERCEPTION! At left defensive end, Jacquies Smith tips a short pass from Jameis and Bradley McDougald pulls it out of the air. Sure pick-6 on the right side. Sloppy looping throw by Jameis.
*Mike Glennon enters and starts sizzling. Fires a rope to Cameron Brate about 15 yards in the slot. Crowd likes that.
*With huge rush in his face, Glennon has a nice dumpoff to Krause, who had a smooth catch and run.
*Juggling catch down the right sideline by Evan Spencer from Glennon. 25 yards with Keith Tandy and Vernon Hargreaves covering.
*SACK! Howard Jones would have crushed Glennon, if QBs could be touched. Jones was on an inside move from right defensive end.
*More struggling from Jameis. Bad throw to Russell Shepard who was open down field. Incomplete.
*BLITZ! Lavonte David comes flying in between right guard and right tackle untouched. Jameis would have been mauled. David seems to be loving his new defense.
*More slop! High shotgun snap, good enough to be handled, flies through the hands of Jameis.
*Nice connection later in 7-on-7, Jameis to Charles Sims with Lavonte David covering about 15 yards down the right sideline.
*BOMB! 40 yards from Griffin to wide receiver Freddie Martino.
*Linebacker Adarius Glanton flashes pass coverage skills and running ability.
*Nice catch by Mike Evans, an 8-yard quick out with Grimes all over his back. Evans just too big.
*Rope! Jameis to Adam Humphries in the slot, about 20 yards downfield. NFL Network talking heads buzzing about that one live on the air right next to Joe.
Stick with Joe for much more out of today's training camp festivities.