"It Seems Even Quicker"
August 5th, 2016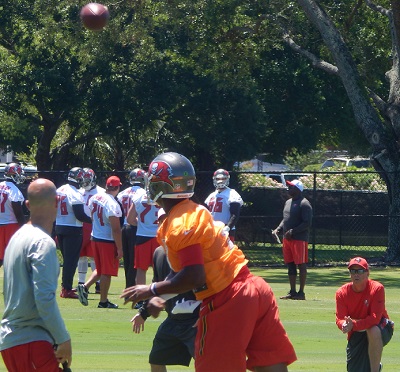 Sixteen years playing NFL football puts former Bucs tight end Dave Moore in rare company. What also puts him in rare company is his ability to break down football for the common man.
Moore calls game on the Buccaneers Radio Network and shared his insider takes and analysis on WDAE-AM 620 this week. The full audio is below.
Moore says he's heard the Mike Smith transition has been very smooth and he likes how Smith's defense will focus on "confusing the protection" to free pass rushers. Yes, Moore referenced how vanilla and predictable Lovie Smith's defense was.
Most encouraging, perhaps, was Moore saying the release of America's Quarterback, Jameis Winston, "seems even quicker." And the offensive line, despite mixing in new parts, should be far ahead of last year because the core is back and they can communicate protections effectively, Moore said.
A former Pro Bowl special teams player, Moore also is amped up for Roberto Aguayo, though he acknowledges the immense pressure on the 22-year-old rookie kicker drafted in the second round.
Enjoy.