Bucs Lose Day(s) In Pads; Gentler Camp Rolls on
August 8th, 2016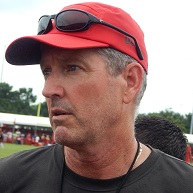 Dirk Koetter is taking no chances with the health of his Buccaneers.
Torrential rain moved moved Tampa Bay's practice to Tropicana Field this morning. Koetter explained that it was supposed to be a day for full pads and hitting, but that was scrapped.
"We had one of those days where we had to be careful with each other," Koetter said. "We couldn't have collisions over there. So we talked to the guys about being real careful."
Joe asked Koetter if it would be more of the same at the Trop tomorrow, and Koetter said that was likely because of the weather forecast.
Wednesday is a walk-through and a travel day for the Bucs to Philadelphia for Thursday's preseason opener.
"Adjust and improvise" was today's call to duty, Koetter said.
Has Buccaneers training camp been too soft?
Koetter is practicing in the morning to avoid the heat, plus walk-throughs at night to avoid heat. There have been practices shortened by weather, and there was today. Joe can't call it soft, but it's easy to wonder.
The Bucs, however, do have a total of four joint practices upcoming — two at Jacksonville next week and two later in August with the Browns in Tampa. That's extra hard-hitting work against angry bodies looking to win jobs. Joe is unaware of any other NFL team with that many joint practices. That should make up for a softer-than-expected start.