Aware Of Dwight Freeney
August 5th, 2016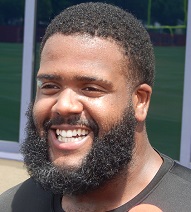 Yes, the Atlanta Falcons, the Bucs' opening day opponent, signed legendary but old edge pass rusher Dwight Freeney last week.
Joe asked Donovan Smith about Freeney after practice today.
"I seen it," a slightly-grinning Smith said of the transaction.
But Smith isn't watching film of Freeney quite yet. "We're still going Bucs on Bucs (laughs). So, you know, we still got four preseason games and everything. When we get to the Falcons, we'll start focusing on that."
Smith has had a solid camp, he definitely looks a little leaner and stronger than in his rookie year.
"Oh, a lot stronger," Smith said of his 6-6, 330-pound frame. "You know, the thing you can't replicate is the reps [in the offseason], in terms of just coming. You actually have to go out there and get the feel. So having played a whole season, I know what I'm looking for, know what to work on in myself. It allows me to come out on focus on things. It may not be perfect, but that's why we practice."
The blind side of America's Quarterback, Jameis Winston, is in good hands — and feet. If Smith takes the proverbial Year 2 leap many rookies do, then the Bucs better start saving their money for a gargantuan contract when Smith's four-year rookie deal is up.
Speaking on WDAE-AM 620 earlier this week, veteran right tackle Demar Dotson said Smith reminds him an awful lot of Donald Penn because of his monstrous size but nimble feet and intense nature.