"One Of The First Players I'm Going To Watch"
July 26th, 2016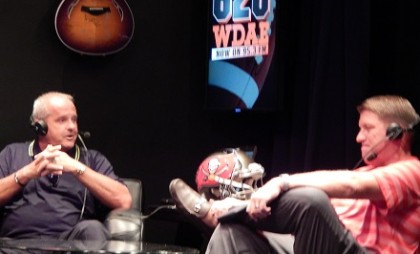 Buccaneers general manager Jason Licht will have his eyes especially locked on one player early in training camp, so he told the dean of Tampa Bay sports radio, Steve Duemig of WDAE-AM 620, this evening.
The player? Defensive end Noah Spence, Tampa Bay's second round pick out of Eastern Kentucky.
"You're going to see a tremendous athlete that's got a great first step," Licht said. "He can really bend the corner. He plays fast. He's very aggressive. And he's got a very no-nonsense approach. The players, the defensive line are raving about his work ethic and just his motivation and his attitude. You know, he's got a little edge to him and a chip on his shoulder. And you see it out there in, like you call it, in underwear football. I think when we put the pads, I'm excited. He's one of the first players I'm going to watch. … He plays with anger."
Yes, the GM was laid back in his interview, but he's pumped up about Spence. And why not? If Spence is the real deal, the Bucs have filled their longest-lasting crater.