Miko Grimes Calls Her Season-Ticket Location
July 25th, 2016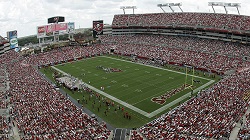 Consider this a public service announcement.
Joe knows many Bucs fans and the Buccaneers organization want to ignore notorious Miko Grimes, wife of new Bucs cornerback Brent Grimes. Just treat her like any other fan.
Well, Miko is not quite like every other fan. In fact, in a Tweet earlier this morning, via her @iHeartMiko account, Miko noted she won't discriminate when it comes to dropping her brand of love on fans sitting near her at the Stadium on Dale Mabry Highway.
"i hope section 112 is ready for me this season. i can be rude to not just visitors, but even the home fans. its all love tho, just #watchout
So there it is. Miko will be parked in Section 112. That's a 30-yard-line seat right behind the Buccaneers' bench. Either run out and get tickets near the Miko show, or call your Bucs ticket representative to relocate, or do nothing at all.
Joe was really hoping Miko would get behind the visitors' bench, though Joe figured she'd be on the home side keeping an eye on her man and all things Bucs. Mike Evans might want to invest in ear plugs if his K-Y hands return.