"You've Got The Wrong Guy"
July 25th, 2016
In his first column for JoeBucsFan.com, eye-RAH! weighs in strong on the Bucs' most polarizing figure, with quotes from Buccaneers co-chairman Joel Glazer.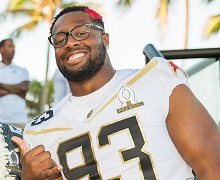 BY IRA KAUFMAN
TAMPA — You've got the wrong guy, people.
After five long years in the NFC South basement, some Buc fans are looking for scapegoats. That's understandable. That's human nature.
So many coaches, executives and players have spun through that revolving door at One Buc Place in recent years, it's hard to find a single figure to blame for all the disappointment and heartache.
Gerald McCoy is an easy target, and there is a growing sentiment that the No. 3 pick in the 2010 draft hasn't lived up to expectations.
That's the real issue for the McCoy haters out there. He is often compared to fellow defensive tackle Warren Sapp — and he comes up short. Since when is there shame in that? Sapp was a singular disruptive force, one of only five defensive linemen in NFL history to make two all-decade teams. The others are Reggie White, Bruce Smith, Merlin Olsen and Bob Lilly. Like Sapp, all are enshrined in Canton.
Sapp was one of a kind, feared by opponents for his hunting prowess and admired by teammates for his competitive nature. And if McCoy's first six pro seasons don't measure up to No. 99, he certainly doesn't deserve to be mocked or ridiculed by Buc supporters.
It all comes back to the losing, and there's been so much of it in Tampa during McCoy's run. The Bucs are 29-49 when McCoy is on the field, and that's not what ownership had in mind when McCoy was selected directly after the Lions drafted Ndamukong Suh.
With that in mind, I asked Bucs co-chairman Joel Glazer to respond to the McCoy skeptics.
"Here's what I know – Gerald's a tremendous player and a tremendous person in the community," Glazer said. "Gerald is a tremendous teammate. When I talk to fans, the vast majority appreciate the effort and what he does on and off the field. As an organization, we're lucky to have someone like Gerald."
At the age of 28, McCoy already has been named to four Pro Bowls and he has missed only four games in the past four years. Since 2013, he has averaged nine sacks, compared to seven sacks for Suh.
He played hurt for much of last season, but some fans don't like his demeanor.
Hard To Laugh
Where Sapp liked to stroll through an opposing team's pre-game stretch to announce his presence, McCoy has the audacity to help a downed runner back to his feet. Nobody seemed to complain about that when Hall of Fame defensive end Lee Roy Selmon loaned a hand.
Last month, a report, citing unidentified sources of course, suggested McCoy's work habits are lagging.  Finally, No. 93 had enough. McCoy took to Twitter: "Anybody who knows me knows that's comedy."
But it's hard to laugh when the team you root for has gone eight years without a postseason game and 13 years without a playoff win. On a national scale, the Bucs have been largely irrelevant. That's why Lavonte David's varied skills are overlooked by so many for so long.
During one of my weekly radio appearances with SiriusXM host Chris "Mad Dog" Russo, he asked me last fall whether McCoy "had made a tackle yet" all season. That's what you get when you lose in historic fashion. It's not fair, but it's reality.
"I think there are 31 other teams that would love to have a Gerald McCoy," said Glazer. "Whenever you're not winning, people are going to look at everything. When you're winning, food tastes better, everyone is happier. From our standpoint, we're very proud what Gerald's done."
Why aren't you?