Mike Jenkins Finds A New Team
July 19th, 2016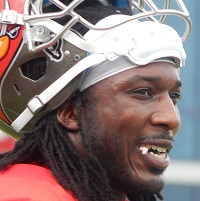 It's always heartwarming to see a man get a job, especially when it's cornerback Mike Jenkins finding work 2,000+ miles from Tampa.
Aka "Toast," Jenkins is part of dark period in Bucs history known as the Lovie Smith years. For some unknown reason, Jenkins and Lovie were involved in a bizarre football bromance the likes of which Joe has never seen before. Joe will never understand what Lovie saw in Jenkins, whose forté appeared to be clapping and celebrating when an open receiver he was attempting to cover dropped a pass.
A 2009 Pro Bowler with Dallas, Jenkins hasn't been a special player in many years. Since that strong season, Jenkins has just four interceptions in 50 starts.
Joe assumes Jenkins represents high-quality camp meat in Arizona. He started the Bucs' final game of the 2015 season, and he recorded one tackle in his final nine games for Tampa Bay.