Jameis: "I Gotta Get My Mind Right"
July 2nd, 2016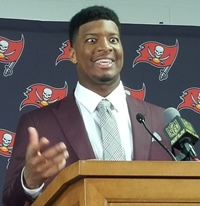 Must-watch video here of America's Quarterback, Jameis Winston.
Obsessed this offseason and with community service, Jameis rolled on this week in Alabama, visiting hospitalized youth, speaking to kids at a local library, and actively hosting his own football camp, in addition to other counseling of kids.
WIAT-TV, the local CBS affiliate, sat down with Jameis for a 1-on-1 session via the video below.
Jameis talks about how "I gotta get my mind right," in order for the Bucs to become a Super Bowl team. He also discusses his messaging to children. It's a video that Joe promises will set your Saturday in the right direction.