Head Games
July 2nd, 2016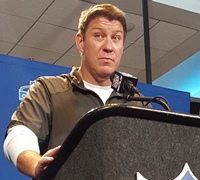 Pick a bust, any bust.
An NFL prospect must have the physical tools to be selected in the NFL draft. Teams don't sign bus drivers, after all. Guys have to run, have to be strong, have to have stamina.
But where teams fail in the draft is seeing inside a player's head. That was the word from Jason Licht in April. In short, Licht explained psych evals are just as important, and maybe more important, than a player's physical traits.
"Ninety percent of the busts, in my opinion, are because of something above the neck," Licht said. "Whether it's (a bad) work ethic, (a lack of) passion for football, interests that aren't good for a football player or maybe the guy is just a bad teammate that's where most of the busts come from."
Joe remembers hearing Licht explain on "The Peter Schrager Podcast" that he seeks players that would eat nails in order to get on a football field. Licht believes if a player has the drive to play that he would walk over glass to get on a roster. That player, per Licht, is more inclined to continue to work through the offseason and improve on the field.
In other words, guys who live, eat, breathe football often have a higher ceiling than, say, a first-round draft pick who treats the NFL more as a job than an all-encompassing passion.