Interesting View Of Revis Release
July 18th, 2016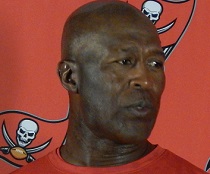 Future Hall of Famer Darrelle Revis getting cut by Tampa Bay is Joe's ultimate headache, the kind that lingers and doesn't respond to painkillers.
So Joe is hypersensitive to everything relating to that mind-numbing personnel move.
This morning on SiriusXM NFL Radio, Mike Nolan, the former 49ers head coach and a defensive coordinator for a whopping seven NFL teams, talked at length about how coaches who dump talented players that don't fit their systems are simply bad coaches, or misguided at best.
Coaches saying, 'We just do what we do' are missing the point of coaching, Nolan said. He emphasized coaches are paid to adapt and work with a roster, and he said, "Coaching is a tool to bring out the best in players," rather than to dump good players in the name of a system.
"Letting a talented guy go who doesn't fit your scheme is bad business," Nolan said.
Lovie Smith never even got a look at Revis on the practice field.
But what really caught Joe's ear was Nolan naming the organization he believes is the least likely to dump a talented player. Nolan picked the Arizona Cardinals, led by general manager and former player Steve Keim, and head coach Bruce Arians and his veteran coaching staff. He said the Cardinals' approach is wholly about adjusting to players (aka coaching) and creating an environment in which all talent can thrive.
So what, you ask? Jason Licht was Keim's right hand man before coming to the Bucs and maintains close ties to his Arizona relationships. After hearing this from Nolan, it's hard to believe Licht marched into Tampa and jumped at the chance to launch Revis. It sure feels like that edict came from Coach My Scheme.