"Justify" Not Included
July 25th, 2016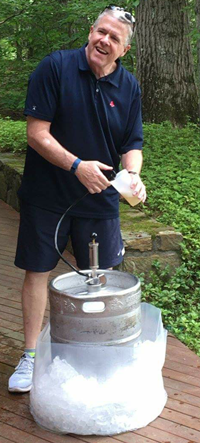 Welcome to the national narrative on Dirk Koetter and the 2016 Buccaneers, courtesy of Lovie Smith's friends who like to ignore the utter defensive collapse by Tampa Bay last season.
Today, Joe's spotlight goes to Yogi Berra-worshiping, urinal picture-taking, video game-playing, Taylor Swift-listening, pickpocket-thwarting, Bucs-uniform-frowning, Allie-LaForce-smitten, Big-Ten-Network-hating, pedestrian-bumping, olive oil-lapping, popcorn-munching, coffee-slurping, fried-chicken-eating, oatmeal-loving, circle-jerking, beer-chugging, cricket-watching, scone-loathing, college football-naïve, baseball-box-score-reading, NPR-honk, filthy-hotel-staying, fight-instigating, barista-training Peter King, of Sports Illustrated and NBC Sports fame.
In his famous Monday Morning Quarterback column, King calls out issues facing each NFL team.
For the Bucs, it didn't take long for King to reference NBC colleague Tony Dungy notable Bucs frowning on the firing of Lovie Smith.
27. TAMPA BAY: Can Dirk Koetter justify the faith GM Jason Licht placed in him? There were a few prominent Bucs not happy to see Lovie Smith get whacked after the season. Koetter now has the job of ushering Jameis Winston into his maturing year as starting Buc quarterback and making sure he shows 53 players he's up to the head-coaching task. He'll need cornerback Vernon Hargreaves III, the rookie, to show up big early to boost a flagging secondary, so Winston doesn't have to score 31 a week to have a chance.
Don't misunderstand Joe. In Joe's top-10 Bucs x-factors series, Joe ranked Koetter at No. 1, as well. But surely it had nothing to do with a few guys unhappy that Lovie was fired.
Newsflash for King: Some key players and figures are always unhappy when a head coach is fired. There were quite a few Buccaneers sad that Raheem Morris was launched, including iconic Ronde Barber. There were even firm Greg Schiano supporters, more than you might think.
Koetter was the best man for the job in 2016, and he doesn't have to justify a damn thing. Lovie was dreadful. But Koetter must win games. Joe has written repeatedly; Koetter doesn't have three years to respectability or better, not after serving as offensive coordinator last year and entering the top job with intimate knowledge of the personnel.