Jameis: Goodbye "Standard Looks"
June 14th, 2016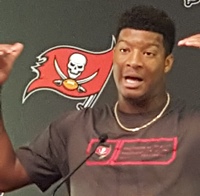 Every offseason for losing teams is about change. Otherwise, they typically keep losing.
In the case of this year's Buccaneers, the absence of Coach My Scheme is a change felt daily at One Buc Palace.
Things are different– on and off the field.
The Bucs are excited about a more aggressive defense under Mike Smith. And today after practice, America's Quarterback, Jameis Winston, was asked about what he's seeing across the line of scrimmage.
"Man, you know, one thing that quarterbacks always discuss after practice is [what's] different. We saw more of standard looks last year [in practice], but now they're mixing everything up," Jameis said. "You know, it makes us better. It's good that we see all these different looks. Hopefully, we'll see them confuse a lot of other quarterbacks this year."
Joe was intrigued by the "standard looks like from Jameis. Considering he was a rookie, and much of the NFL world was new to him, Joe can only image what, say, Matt Ryan and Drew Brees saw from the Bucs' defense when they watched film.
Joe's really excited by the fresh air.