Falcons Watch: 100 Days
June 3rd, 2016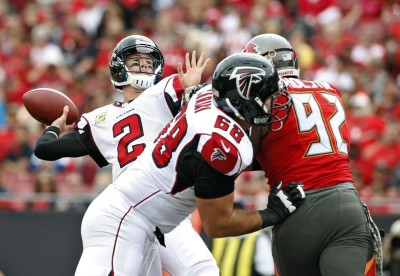 Just 100 days until the Buccaneers open the 2016 regular season in the wild-loud cauldron known as the Georgia Dome. Joe will count the days with a regular nugget on the enemy, the Atlanta Falcons.
Joe already wrote about the Falcons' bust of 2015 first-round draft pick, Vic Beasley, a Clemson defensive end banished to linebacker. Beasley led the Falcons' ugly pass rush last year with four sacks. Adrian Clayborn had three. And Atlanta only racked up 19.
So the revelation yesterday by Falcons defensive coordinator Richard Smith is no surprise.
"If you were going to say that we worked 80 percent pass-rush on a daily basis in terms of technique and fundamentals and about 20 percent in terms of run defense right now (that would be accurate). That was an area where we were a little bit deficient a year ago," Smith said.
Against the Bucs, the Falcons' pass rush found a way to be solid through two games in 2015, hitting America's Quarterback, Jameis Winston, 12 times and recording to two sacks.