Wide Right For Roberto Aguayo
May 7th, 2016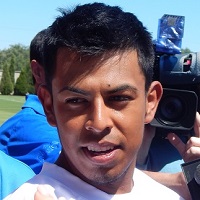 It's happened already.
Yes, Roberto Aguayo pushed a roughly 38-yard field goal wide right today at rookie minicamp practice at One Buc Palace.
Oh, the horror. Somebody push Jason Licht in his pool!
Joe's joking, but not about the missed kick.
A collection of Bucs hopefuls were in an 11-on-11 special teams period, and without any kind of rush, Aguayo showed he's human. He didn't miss any other kicks, per Joe's eyeballs.
This is what happens when you use two draft picks on a legendary college kicker. People start to care about what's (hopefully) meaningless.