Hargreaves Gets His Helmet Ripped Off
May 7th, 2016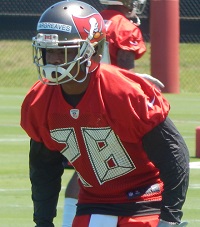 There's no contact allowed in rookie minicamp, so why was first-round pick Vernon Hargreaves' helmet ripped off his head this afternoon?
Of course, there's no instant replay for Joe and the rest of the media to watch. But Joe can say Hargreaves, playing inside, jumped a short route and snatched a pass out of the air with an impressive burst on the hard-thrown ball from tryout QB Phillip Ely.
The receiver kept fighting for the ball and Hargreaves ended up getting mauled, mugged and molested on his way to the turf. His helmet was ripped off but he held on.
Dirk Koetter liked the result, so he said after practice.
"Vernon Hargreaves made a beautiful interception on an option route out there. Quarterback was a little late and he cut in front of it, made a nice play, but there's guys making nice plays on both sides of the ball and we just have to temper everything with just helmets on," Koetter said.
That's what you get when you ask guys to play pretend football but still compete for their dream jobs. Regardless, everyone is healthy and it was a good clean practice.