"Wayyyy Ahead"
May 25th, 2016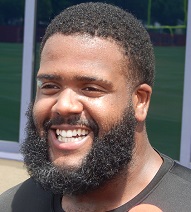 Donovan Smith is one gargantuan dude. He was 6-6, 338 pounds at the 2015 NFL Scouting Combine.
This offseason, manbeast Smith looks like he shuffled that weight into all the right places.
Smith is definitely a more imposing figure now. Yesterday, Joe asked Smith where he is physically versus this time last year.
"Wayyyyyy ahead. Just way ahead," Smith replied. "Pretty much just condition-wise I'm in better shape. Understanding what needs to be done to take care of your body – your knees, your shoulders, everything. So, you know, I'm far ahead in understanding how to take care of your body."
What's extra cool about Smith's comments is he played every snap last year. He already was taking good care of himself while grinding in the trenches, playing through the all the dings and dents every lineman suffers. He was the only Bucs O-lineman — or D-lineman — to start every game.
That impressive grand slam by general manager Jason Licht feels like it's still paying dividends. That draft class is one motivated bunch.