The Rub-Off Factor
May 26th, 2016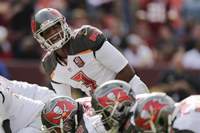 Joe vividly recalls a chat three years ago with then-Bucs pass rush coach and ex-NFL great Bryan Cox talking about how Gerald McCoy needed to raise his game.
Cox said McCoy needed to bring others along for his Pro Bowl ride. Cox's contention was the greats of the game make those around them better, and he was talking primarily about McCoy's mates on the defensive line.
Fast-forward to Tuesday of this week, Donovan Smith was asked about improving. He essentially said it is inevitable for him because he's driven constantly by America's Quarterback, Jameis Winston.
"When you have a guy like Jameis [Winston] who's 24/7, 'Get better, get better at something,' it forces you, even if you don't want to – not saying I don't want to – even if you don't want to, to get to that level," Smith said.

"Being around him – you know, we hang out a lot – it's always something that I'm looking at whether it's punching, my feet, keeping my knee inside on my kick, stuff like that. It's about the little details and stuff like that that I try to fix and look at. I definitely do want it – probably [worse] than anybody – to be the best and I have to do anything to be the best, whether it's understanding the plays and on the field, so everything."
That says it all so well.
For those wondering, Joe saw only one man sprinting off the Bucs practice field at the conclusion of the OTA session on Tuesday. It was Jameis, still wearing his helmet.