The Only New Toy
May 3rd, 2016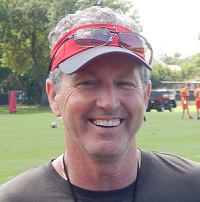 At least something was under the Christmas tree for America's Quarterback, Jameis Winston, during the NFL Draft.
Hardly a new iPad or a Corvette with a big red bow around it, sixth-round pick Dan Vitale is more rare gift.
He's a fullback that's more wide receiver but plays tight end, too. Known as a "superback" at Northwestern, Vitale comes to the Bucs as a guy who potentially could change the face of offensive football.
Definitely read this cool Yahoo! feature on Vitale. At 6-1, 240, Vitale is a total athletic freak who also is a bit of a football genius obsessed with hitting people.
On offense, Vitale estimated he was motioned out to the wing about 40 percent of the time, in the slot about 30 percent, lined up as a true or offset fullback about 20 percent and as an on-the-line tight end maybe 10 percent of the time. It's the kind of versatility as a blocker and receiver, to go with his eye-popping athleticism and special-teams zeal, that he hopes NFL teams will value highly come draft time.
Yes, Vitale qualifies as a new toy. He can catch the football. He's got great hands.
Dirk Koetter developed undrafted fullback Patrick DiMarco into a Pro Bowler in Atlanta (just ask DiMarco), but Vitale will be a new kind of challenge, one with more upside.
Joe's now imagining Charles Sims and Vitale in a two-back set and then breaking off to line up as receivers.
Yes, the Bucs ignored their desperate for depth at receiver in the draft. But at least Vitale is something.