Playoffs?
May 3rd, 2016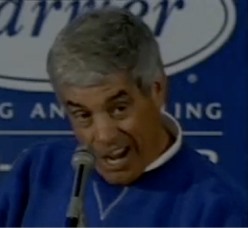 Damn, it has been so long since the Bucs have been in the playoffs — coming up on nine years — Joe barely remembers it.
Shoot, JoeBucsFan.com didn't exist yet when the Bucs were clobbered by the Giants in January 2008.
If the Bucs are finally going to play meaningful football again in January, this past weekend's draft may have secured their shot. That's the word from Joe's friend Jason McIntyre, creator and operator of TheBigLead.com.
McIntyre broke down five teams that helped themselves with a playoff push in the draft, and he believes the Bucs were one of those five.
Tampa Bay: Loved getting CB Vernon Hargreaves in the 1st round. He'll start from Week 1. Not a huge fan of Noah Spence because of his off-the-field history, but it's undeniable that he's a terror on the edge. He'll at least make offensive lines think they need to block someone besides Gerald McCoy. The Bucs are getting crushed in many corners of the web for drafting a kicker (trading up a few spots, technically) in the 2nd round, but that's not an awful move. Connor Barth was 17-for-17 inside 39 yards and missed one XPT. He was, however, 6-for-11 beyond 40 yards. The pressure will be on FSU's Roberto Aguayo to be virtually automatic inside 50. I wouldn't have done it, and here's something to remember – after Aguayo went 59th, two defensive backs went off the board at 61 and 62 in the division – Vonn Bell (Saints) and James Bradberry (Panthers). Jameis Winston should improve on 58 percent completions and cut down on the 15 interceptions. Tampa was close to the playoffs in Week 12, before fading; I think they can pull it off in 2016.
Yes, the Bucs faded last season, in large part to Coach My Scheme's joke of a defense. The Bucs can't possibly get worse there.
One would hope all the rookies who played so well last year will be that much better in their second seasons, which in turn should make the entire team better.
Playoffs? Joe can't go there. Yet.