The Odometer Turns 25K
May 9th, 2016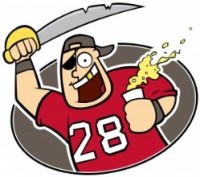 No, this isn't a plug for Joe's esteemed partners at Ed Morse Cadillac, Ed Morse Auto Plaza and the family of local Ed Morse dealerships.
It's a thank you from Joe.
Today, the odometer on JoeBucsFan.com turns past 25,000 posts/articles since the website launched in August 2008.
Doesn't sound like a lot? Consider that's more Bucs content than the Tampa Bay Times or Tampa Tribune produced in that time period, and likely more than both newspapers combined.
Reaching milestones like this fuels Joe to press on and be thankful for the booming growth of all things JoeBucsFan.com, which just missed hitting 1 million unique visitors for the calendar year of 2015. Those unique visitors logged 6 million actual visits.
Thanks again. Joe will now return to delivering all things Bucs.