Report: Sweezy Turned Down More Cash From Seattle
May 9th, 2016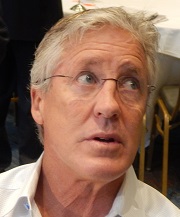 Back in March at the NFL Owners Meetings, Joe typed up a chat with Pete Carroll, in which Joe tried to express just how sincere-sounding and down Carroll was about losing guard J.R. Sweezy to the Bucs in free agency.
You can read all about that here.
So this weekend it was especially interesting to hear well-connected former Bucs tight end Anthony Becht, who works for the team's official website and is heard on the Buccaneers Radio Network, tell a national radio audience that Seattle offered Sweezy more money to return but he chose Tampa Bay.
The 27-year-old Sweezy was the big-money replacement for Logan Mankins. What's most intriguing about the mauler is that he's relatively new to the position, transitioning after being a college defensive end. He's likely more on the rise than a typical guard his age.
So if Sweezy did, in fact, turn down more cash from Seattle, was it due to the recruiting efforts of his friend and college teammate Mike Glennon? Bucs fans might owe Glennon a giant pat on the back before he bails in free agency after this season.