The Journey Of Roberto Aguayo
May 6th, 2016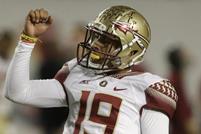 Well Bucs fans, he is here.
Kicker Roberto Aguayo and the rest of the Bucs rookies are in town today and will arrive to One Buc Palace to begin their first practices as NFL players.
Aguayo's history, whether you agree with the pick or not, is fascinating. In theMMQB.com video below, Aguayo talks about his kicking philosophy and how he grew up in very humble beginnings to become a Lou Groza Award winner and a high draft pick.