"Another Suit?"
May 6th, 2016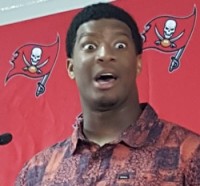 Update 10:39 a.m. OK. Joe was duped.
Buccaneers.com posted a 2015 video today that fooled Joe into thinking it was new. It seems the team website also made some edits to the post. Oh, well, it happens, the video posted yesterday is a year old.
Rookies arrived to One Buc Palace yesterday and experienced something every last Bucs fan knew was coming. On his day off, America's Quarterback, Jameis Winston, was there to greet them.
Undrafted rookies, tryout players, heralded picks — there was Jameis slapping skin and welcoming the herd.
It's all right here in a quick Buccaneers.com video.
Most rookies arrived in very casual gear, but not all. Joe liked when Jameis asked one well dressed dude, "Another suit?"